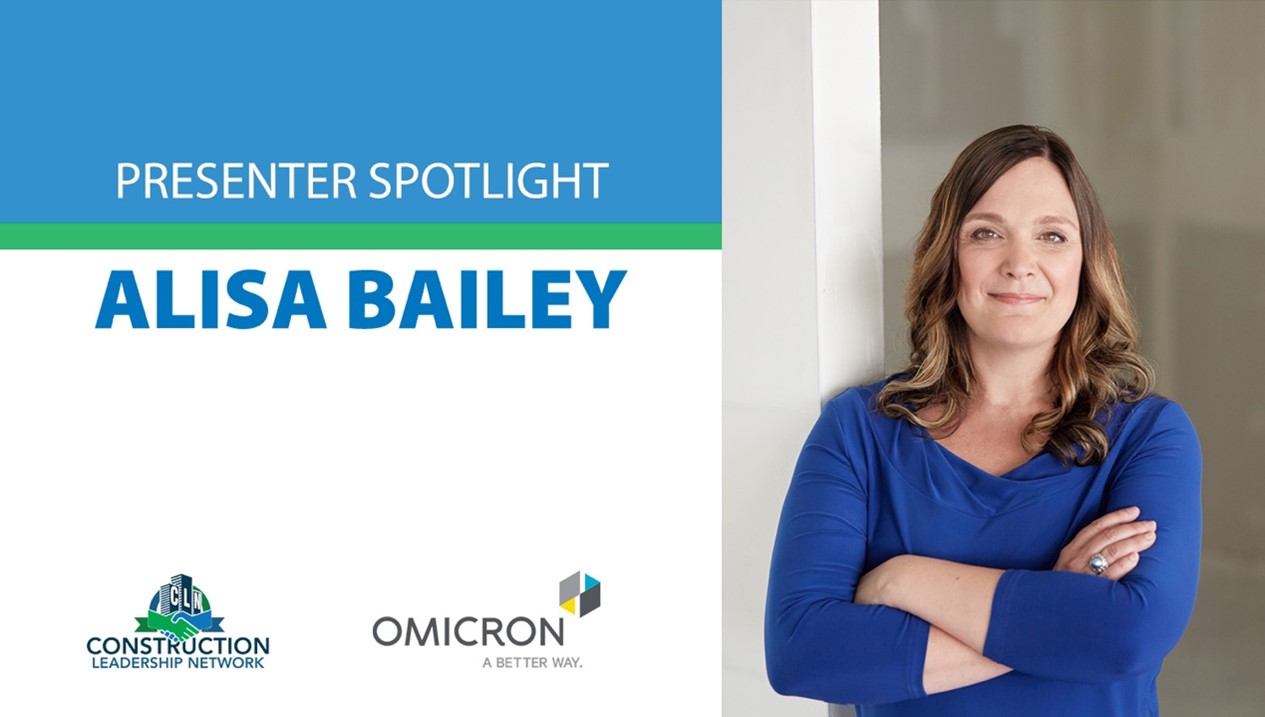 The 2023 Construction Leadership Network Conference will focus on "Navigating Challenges in The Industry," with discussion groups and speakers addressing current obstacles facing the construction industry. Among the conference presenters we're excited to hear from this year is Alisa Bailey, who will discuss how to overcome pitfalls by creating dynamic teams and partnerships within projects.
As Vice President of Industrial at Vancouver, British Columbia–based Omicron, Alisa guides the integrated design and construction firm in projects as diverse as laboratories, manufacturing facilities, warehousing, and large developments. We sat down with her to discuss the importance of open, clear communication and trust between members of collaborating teams.
CLN: Thanks for joining us! Can you tell us a little bit about what Omicron does?
AB: Omicron is a fully integrated design and construction company with in-house architectural, mechanical, electrical, and structural engineering. We also have an interior design team, a project management group, and we also have a development team and a construction management group. We work on high-end office builds, warehouses, manufacturing, multi-unit residential, institutional, and school buildings — all sorts of things. My team specifically focuses on fully integrated industrial projects and pure project management.
CLN: You joined Omicron in 2014. What did you do before that?
AB: Prior to Omicron, I worked for BC Housing, which is the social housing agency here in British Columbia. I was a director, running their renovations and renewal projects to fix and repair buildings and do major retrofits to building systems.
I then came to Omicron as a project director, leading our integrated teams on complex projects such as labs and manufacturing spaces.
In my nearly 10 years here, my role has changed slightly — I'm now Vice President, Industrial and Integration. So, I've grown in my career at Omicron, and now I'm supporting the company not only in building the industrial sector but also in updating some of our processes and getting staff trained.
CLN: You're going to be one of the speakers at the 2023 CLN Conference — tell us a little bit about what you plan to present and what you hope people will take away from your presentation.
AB: My session is going to be on building and sustaining a great team. Often in the industry, you get a lot of conflict arising from various companies as they work together. At Omicron, I've honed in on creating a dynamic team from the very beginning of a project, one that can trust each other and allow people to feel comfortable bringing unique solutions to the table while supporting other team members. We're going to be talking through how people interact with each other, to remind attendees of things that they've all probably learned over the years about different personalities and the different ways people interact with each other. I'll also talk about strategies of how you can bring those teams together and create a level of trust where people work together and feel that they've got a safe space to give their opinions. Or, if there's a hard conversation that needs to happen, we'll discuss how that can be handled in different ways.
CLN: Would you say it's about building a culture within an organization?
AB: Yes, but not just culture at the company. The thing with construction projects is, you create teams that are basically a new set of people on every single project, so it's important that you sort of "level set" so that everyone gets on board as a team as early as possible. That way, you can avoid conflict and start working as a team at the very beginning and then maintain that throughout the project as you add new team members.
So, it's not necessarily to do with culture at the company, per se, but this is really focused on coming up with strategies to quickly build a team on a project-to-project basis that trusts and collaborates with each other, even if they're not all from the same company.
CLN: What are some best practices when it comes to putting these teams together in a way that's going to be constructive (no pun intended) and sustainable over the course of a project?
AB: The best advice that I can give is to start at the very beginning. A lot of times people jump into a project and think, "We'll just figure it out along the way," or, "It'll work itself out." But if you can set the tone at the very beginning, to really engage with the team on getting to know each other as human beings and not just a person on the other end of a phone call, you can keep them from jumping to assumptions and conclusions. They'll more likely want to pick up the phone and talk things through rationally.
CLN: Do you find this to be a big challenge in the industry, something that most companies face?
AB: Sure, I think it's just part of what we do. Companies in the construction industry kind of jump from one project to another. We know that we're different personalities, but what I don't think we do very well is try to create and build a team dynamic from the very beginning. We kind of just fix it as it goes along, try and tweak and adjust as we go, or just put up with behaviors because we think that's somehow easier.
But creating a team dynamic at the very beginning, where everyone's really working together as a unit and you have really concise ways of dealing with conflict and providing that to the team members, creates a much more efficient and profitable project. The problem of people's personalities getting in the way of making good choices is curtailed because they're actually working together and functioning as a team.
CLN: It sounds like you try to take a very intentional approach to who you're putting together, to weigh the strengths and weaknesses when you're organizing the project team. Is that fair to say?
AB: Sure, I think each company wants to put their best people forward for a project, right? But if you have 15 different companies that are all picking their best people, then, as a team, maybe not all the best people are the best fit — but you don't get to really pick. You may get people you can't change on that team. That's really what this session is about: you're going to end up with a group that will be unique and dynamic and is not always going to think the same way. How do you, as quickly as possible, get those people to feel that they can trust each other and work together, not against each other?
CLN: For the construction industry specifically, there are challenges you can predict, but there are probably more unforeseen challenges, like weather and supply chain, that you can't. How do you set expectations for those at the beginning, in terms of how your team will approach them and avoid entanglements of personalities?
AB: I've found success in talking about that in advance, sort of a "What could happen on this project that could create a situation where we might not work very well together?" conversation. Having a team that's been introduced and knows each other makes it easier to work out a solution. Early on, talk about some ways to manage and deal with a range of challenges, so that later you can go back to that playbook and everybody can be reminded, "Oh yeah, we talked about this, and we thought the best way to solve that situation would be x, y, z."
CLN: What would you say to people who may not have been to the CLN Conference before about your experience there?
AB: I would say that when you go to a lot of other industry conferences, it feels like you're walking into a room full of competitors and you have to kind of hold your cards close to your chest. But at CLN, it's very different. It's about sharing challenges that you've faced and sharing the ways you've overcome those difficulties. These are people that want to support the industry and improve it by working together and sharing ideas. The open conversation and dialogue help you learn so much and gain a lot of good connections and friendships that you can lean on throughout the year.
Just recently somebody sent out a question to the group, asking, "Does anybody have experience with a document like this?", and others sent responses back to say, "Here's what we used; here's how we did it." We're sharing resources and sharing information to help each other's businesses.
CLN: There's definitely peace of mind in knowing you have peers through CLN who are ready to help if you reach out. Last question — what made you become part of the Steering Committee?
AB: I wanted to join because I love the team player aspect of the CLN and that you can bring companies together and create peer groups that allow people to work together in a better way. We're working to change the dynamics of the construction industry. Organizations like CLN are definitely a driving force for that, and I'm excited to speak at the conference about how we can continue to improve!
Attend the 2023 Construction Leadership Network Conference
Join us in Tucson, Arizona, October 30 – November 1, to hear from Alisa Bailey and many other industry leaders and peers. Register here!