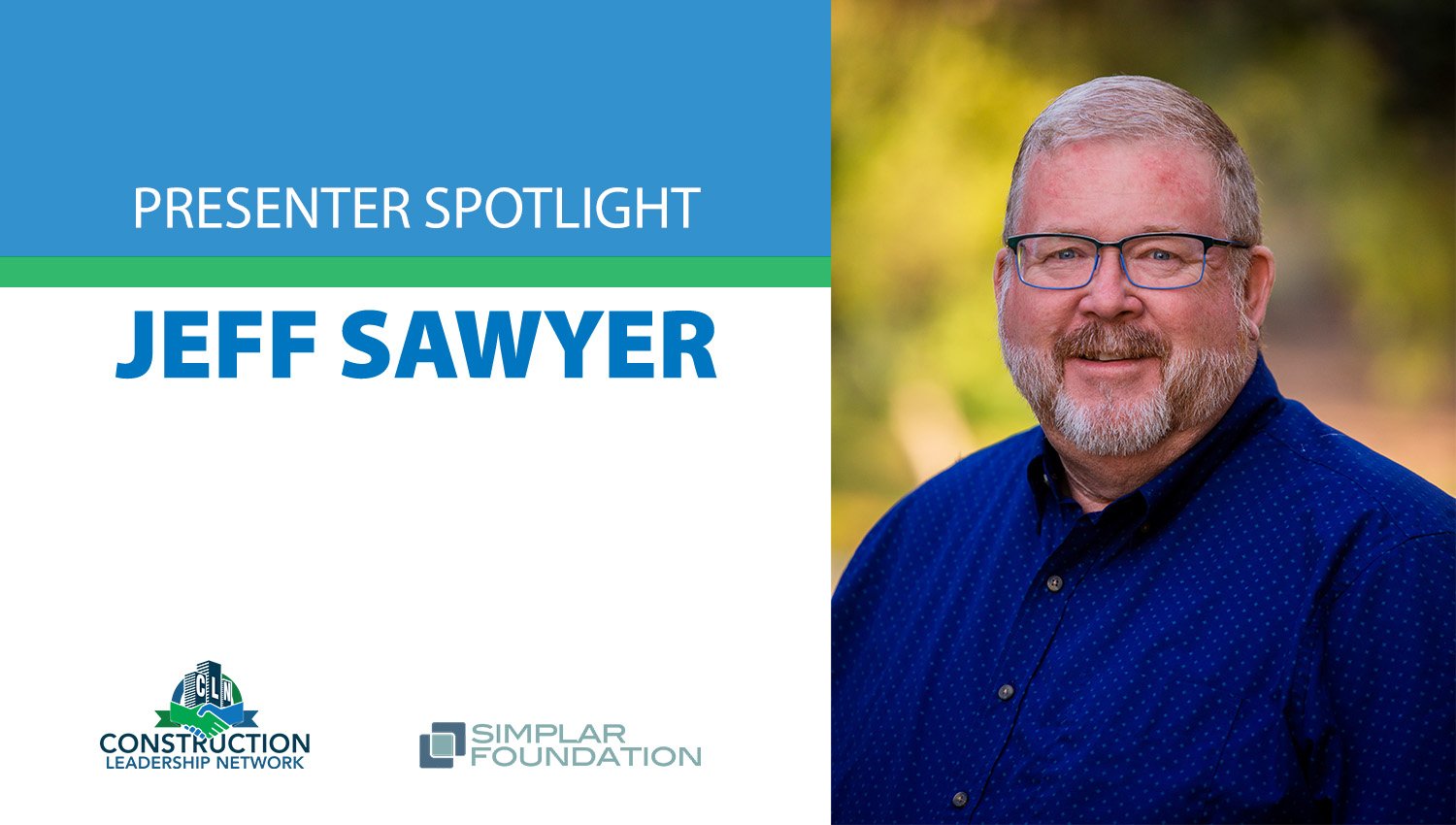 Providing information, strategies, and tools companies need to thrive in any economy, the Simplar Foundation — a nonprofit research foundation that provides insights for change in the construction industry — is the perfect fit for the 2023 Construction Leadership Network Conference.
Researchers Jeff Sawyer and Dr. Kenneth Sullivan will both be presenting—delivering keynote speeches and leading focus groups pertinent to our theme, "Navigating Challenges in the Industry."
To learn more, we sat down with Jeff, who focuses on helping construction owners with "the business of the business of construction." He is a researcher and industry expert with more than 30 years of experience in engineering, consulting, construction, capital project management, and procurement.
CLN: For those unfamiliar with the Simplar Foundation, could you tell us a little about it?
JS: The Simplar Foundation is a 501(c)(3) non-profit research foundation. We fund research through grants and donations in a variety of areas, including procurement, construction, facility management, and organizational transformation. Our research spans everything from how to procure professionals, whether it be engineering, design, or construction, to risk mitigation, areas of partnering, and early collaboration for better project outcomes. We also do a lot of research in alternative delivery, procurements, or processes in areas other than low bid when it comes to the construction industry.
At the core of the foundation is effective research that reaches the community. Much of our work is associated with public entities, whether it's a utility, city, or university, where real projects and organizations serve as the "laboratory". A lot of research is done for the sake of research, to build greater knowledge within the research community. In business and engineering, the built environment, facility management, and organizational change and readiness, there's a great need to have deployable research to help communities quicker. Our research focuses on meeting the academic standards of super-high-quality research but also producing things that have immediate impact or use in the communities and their business sectors.
If you had to synthesize it down, our work is about creating efficiencies through collaboration and transparency and developing processes that make people's jobs easier while increasing the probability of success for their projects and organizations
CLN: What led to the creation of the foundation? Did you see an industry need for this type of research?
JS: I grew up within the construction industry and, through consulting and working as a capital project engineer for a city, ended up starting my own design-build company. During that time, I met Dr. Kenn Sullivan, one of the principals of the foundation and our team. I saw his research and started implementing it, which helped my company grow and helped me as the leader. I supported his research through Arizona State University, and as I was changing careers, I became an academic.
We created the Simplar Foundation in 2019. We were looking for an optimized mechanism to create better collaboration and flexibility for research that would be quickly deployable. The Simplar Foundation conducts much of its research over six months, 12 months, and 18 months. If findings meet the academic standard, we can put out simple documents—white papers, for example—that you can hand to someone and say, "Hey, there's a better way of doing this," or "Here's the thing you should consider."
CLN: What can the 2023 CLN Conference attendees expect to learn from the Simplar Foundation?
We do a lot of research in economics and workforce, and we have a core package of research being conducted right now on personality and aptitudes related to performance in the built environment, specifically in construction, centered around teams — how do we form high-performing teams?
In his presentation, "What Every Construction Leader Should Know About the Future," Kenn will lay out the vision of where we see the market going. Workforce is a huge challenge in the construction industry right now, and it will be for the next 10 to 15 years. Leaders who understand the current market and the likely pending market can position their companies and clients ahead of the curve.
I'm doing two sessions, one on performance measurement, "Win More Work: Standing Out from the Competition Using Performance." The idea is that construction business leaders are operations people. That's how we got started in the business. We love building things. We know our performance from that operations view but are not very good at measuring it. We do not measure well, in quantitative terms, the performance of our company and our people.
What I help people do is go back in time, interview past clients, collect data, and get it all into a simple format and make it an ongoing process into the future. And now, with that quantified data, you can make assigning decisions. You can use that for HR. You can use it culturally to motivate. Probably the most important thing is that if you are in the world outside of low bid, in which your qualifications are part of the selection process, whether it's a direct contract or an RFP you're responding to, you now have data that most likely none of your competitors have.
CLN: Tell us about your other session, "Knowing Your Company's Health: Understanding & Using Key Financial Indicators to Sustain and Grow Your Business."
JS: Construction has the second-highest failure rate of companies in the United States, and a company that's 40 years old has the same potential for failure as a company that's five to 10 years old. It comes back to the whole idea that we're operational people. We're often not business-trained or natural leaders.
And because most construction owners are not financial wizards, they can't dig into their financial statements to see the information they really need to control the business side of the business. There are some key indicators that, if you pull those out of your accounting information and you're tracking them in a simple format, will allow you to lead your companies better.
The fundamental idea is that through better practices, the creation of processes and tools, and the development of key leadership skills, we can increase the probability of success. We can change the paradigm of our companies having the second-highest failure rate in North America.
CLN: You've spoken previously at the CLN Conference. What might past attendees remember?
In 2019, I spoke about our study work in human dimensions — personality and aptitude. I think we also dabbled a little bit in project selection — how contractors should select projects. In 2018, Kenn and I spoke on similar topics, both centered around leadership.
CLN: As someone who's been to numerous other conferences, how would you describe your experience with the Construction Leadership Network conference?
Because of CLN's history of openness, trust, and transparency among business leaders who acknowledge their imperfections, it's one of the only conferences I've ever been to where, as a whole, the atmosphere is to help each other and to learn. There's the transparency, the trust, and the willingness to share openly in a non-judgmental environment.
Many organizations and their conferences use the term "leadership" in their names and themes, with the idea that they're for leaders. Construction Leadership Network is about building leadings and making leaders better; so yes, the conference is for leaders, but it's for up-and-coming leaders along with the seasoned. It's not just for leaders to talk. It's to build better leadership and better culture within our companies.
What Would YOU Like to Hear About?
If you are a member of Construction Leadership Network or are attending the CLN 2023 Annual Conference, the Simplar Foundation wants to hear from you! They are inviting members and conference attendees to weigh in on the effectiveness of their specific policies and procedures and offer insight into the industry's most critical issues. Your feedback will help Jeff and Kenn tailor their conference presentations to address your specific issues and pain points.
Click here to take the survey.
Attend the 2023 Conference Leadership Network Conference
Join us in Tucson, Arizona, October 30 – November 1, to hear from the Simplar Foundation and many other industry leaders and peers. Registration is now open!